We want to show you that bigger toys mean bigger fun with this year's new models of ride on toys and scooters. We're auctioning off everything from pedal and push toys for the little ones, to miniature battery-powered sports cars, and Gas-powered bikes for the big kids.  You don't want to miss out on great deals on toys that will have the kids begging to play outside this summer!
Keep reading to see some of our favorites as well as some of the new models you may not have seen yet! Click each photo to go to the item's product page. From there, you can find upcoming auctions to add to your Watchlist, or you can save time by choosing the Buy Now option to purchase the item directly from the QuiBids Store. Don't forget, all QuiBids Store purchases come with free Voucher Bids!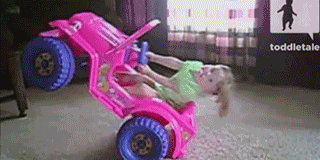 Push/Pedal Powered
Big Jimmy Loader Plus Trailer Pedal Tractor
Quadra Bike
Big Linde Forklift Pedal Riding Toy
Battery-Powered
Big Toys Ferrari California 12V Car
MotoTec MT-ATV 24 Volts Mini Quad
MotoTec MT-03 36 V Electric Pocket Bike
Gas-Powered
MotoTec Gas Pocket Bike
Wheelman 50cc Gas Skateboard
Follow QuiBids's board For the Kids on Pinterest.
Which of these items would your child (or grandchild) have the most fun with? Tell us in the comments!

Products shown are currently for US customers, but may vary per market and subject to availability.